The holiday season is full of family gatherings and parties, so you can catch up with friends and family you may not have seen for a while. But between the eggnog and cookies, your loved one could be dealing with a mental health disorder. If you notice abnormal and unusual behavior, it could be a sign that someone is struggling in silence. Keeping yourself updated and aware of mental disorder warning signs is the best way to help out someone who might be dealing with an internal illness.
Mental Health Warning Signs in Children and Preadolescents
Unfortunately, you're never too young to develop a mental illness. Anxiety dysfunctions, eating troubles, schizophrenia, and mood disorders are some of the most common mental health issues that children and preadolescents encounter. Growing up is hard enough, but growing up with a mental illness makes things much more difficult. Young ones might not be aware of mental disorders and their symptoms, so they need family and friends to help them recognize that something is wrong. It's important to help children and preteens understand that a mental illness isn't something that they have to live with and that treatment options are available.
The most common signs of mental disorders in children and preadolescents include:
Sleep changes

Abnormal eating habits

Physical complaints

Intense fear

Bursts of anger

Prolonged moodiness

Insubordination

Inability to complete daily tasks
Mental Health Warning Signs in Adults
Whether you're a young adult or in your middle ages, mental illness can strike at any time. Depression, anxiety, bipolar disorder, migraines, social anxiety, fibromyalgia, and memory issues can all appear during our adult lives. Dealing with the stress of adulthood is overwhelming and life throws a lot of curveballs our way. While adults may be well aware of mental health disorders, they might be in denial or feel frightened to seek help. That's why adults of all ages need the caring support of friends and family to encourage better mental health.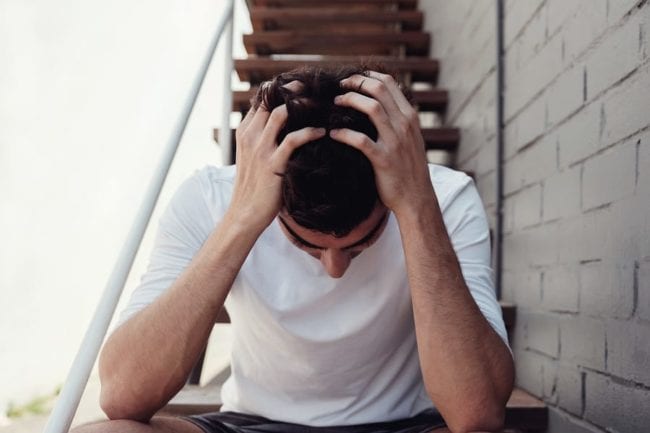 The most common signs of mental disorders in adults include:
Confusion

Prolonged sadness, irritability, and low self-esteem

Social withdrawal

Changes in sleeping and eating habits

Suicidal thoughts

Substance abuse

Inability to cope with daily life

Delusions

Outbursts of intense anger

Excessive anxiety

Inability to make decisions and solve problems
Mental Health Warning Signs in Seniors
Just because our loved ones are older doesn't mean they can't be affected by mental illnesses. Stress, depression, fibromyalgia, and migraines may become even worse if we allow ourselves to age without seeking the right kind of treatment. During our older years, it's also important to be on the lookout for signs of serious memory loss and possible symptoms of Alzheimer's Disease. An older loved one may smile on the outside, but it's important to be aware of any unusual behaviors that may signify a more serious mental issue.
The most common signs of mental disorders in seniors include:
Trouble concentrating

Forgetfulness

Inability to complete daily tasks

Vision changes

Struggles in speech

Misplacing items

Social withdrawal

Mood swings

Poor decision making
GET THE TREATMENT YOU NEED
Whether you're concerned about your own mental health or the mental health of a loved one, the caring and compassionate team at Lehigh Center for Clinical Research can help. We have numerous ongoing trials for a variety of mental health disorders that can provide the treatment you or a loved one is looking for.
If you or someone you know is in immediate danger, seek help. Call 1-800-273-TALK (8255) to reach a 24-hour crisis center or dial 911 for immediate assistance.